Top 25 Prospects NFL Draft 2022
1. S Kyle Hamilton, Notre Dame
Hamilton is the best player in the draft, in my opinion, with the size and coverage skills to be one of the best safeties in the league eventually, as he could be the prototypical safety that matches up well with the more athletic TE's in in the league, while covering receivers, and the ability to play in the box.
2. DE Kayvon Thibodeaux, Oregon
The #1 overall pick on most boards, Thibodeaux is top edge rusher in the draft playing with good strength to stop the run and good bend to get around the edge. Due to his size, Thibodeaux may have to play as a stand-up rusher which may make him even more effective and keep him healthier.
3. DE Aidan Hutchinson, Michigan
Hutchinson has the size, motor, and athleticism to be a problem off the edge and is expected to be heavily considered for the #1 pick in the draft. Hutchinson has good strength to hold the edge in the run game also and should be a consistent threat for years to come; he may unfairly be compared to TJ Watt.
4. C Tyler Linderbaum, Iowa
Linderbaum is the top ranked Center and in a draft like this he is a clear top 5 talent. His wrestling skills are shown in his play style and good footwork, with his ability to get to the 2nd level; I think he could play anywhere along the interior. Scouts would like to see him add 10lbs and get over the 300lb mark.
5. WR Garrett Wilson, Ohio State
Wilson may not be ranked this high on most boards, but I believe he is the most complete receiver in the draft. Wilson may be best in the slot due to his size and ability to make plays in space, but he would be just as effective as a #1 WR on the right team due to his ability to create separation.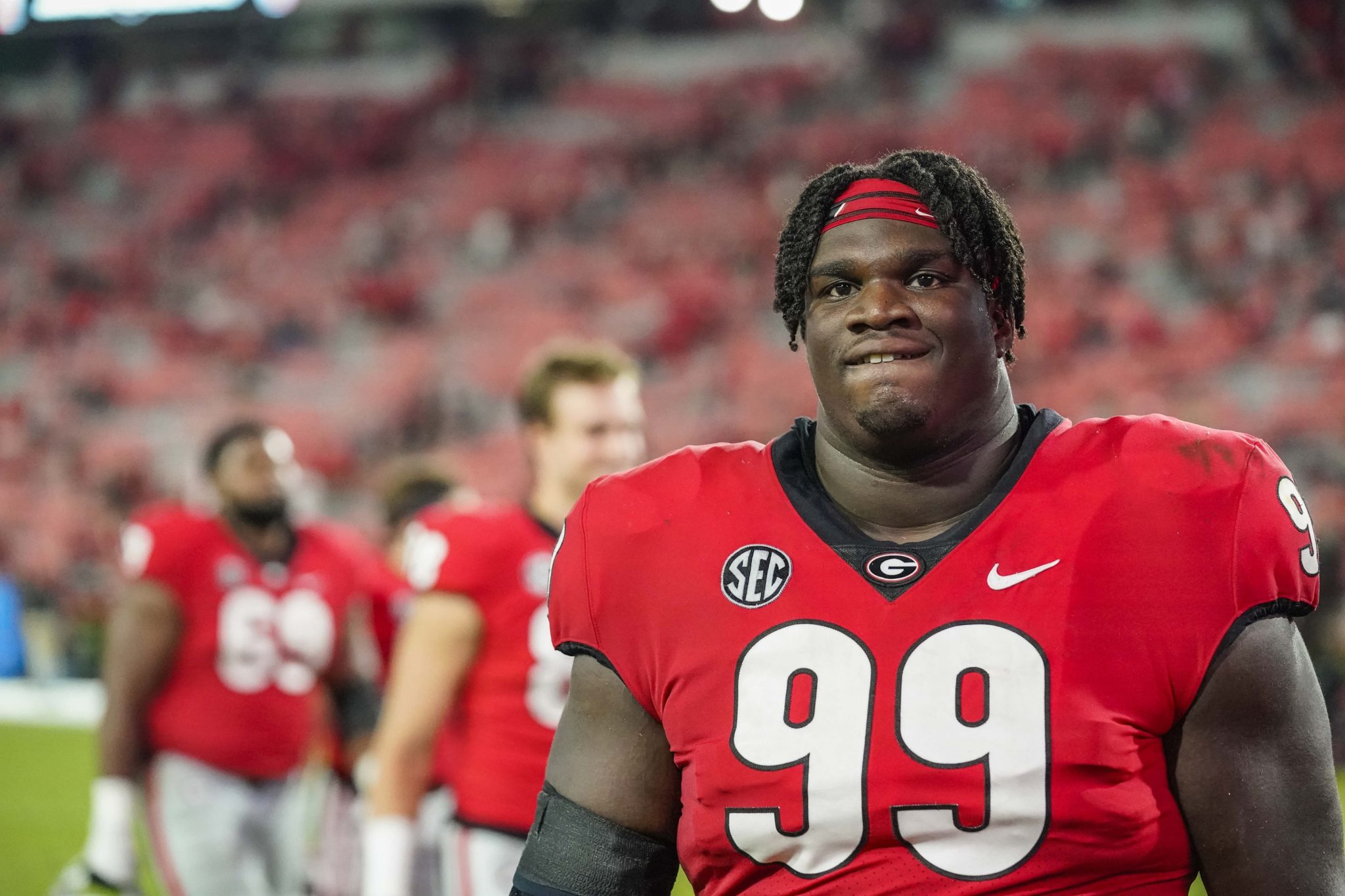 6. DT Jordan Davis, Georgia
Davis is another underrated prospect in this draft as the NFL always has space for huge players who are mobile, and he fits the bill. Davis would be effective in any front and would command constant double teams, but he may not always be able to fill in for three downs; however, teams will have to plan for him.
7. T Evan Neal, Alabama
Neal is the top-rated Tackle on most boards, and he is another player with great size and strength who likes to bully his assignments. Although most teams would want to plug Neal into the LT spot due to his size and footwork, I believe he would be most effective as a run mauling RT to avoid top speed rushers.
8. T Ikem Ekwonu, NC State
Ekwonu is an active lineman who may be the most athletic lineman in the draft as his quick feet at his size really stand out. He may be a bit raw, but his strength and athleticism may allow him to play Tackle or Guard in the league early, especially in a running offense.
9. LB Devin Lloyd, Utah
Lloyd is the best coverage LB in the draft which makes him maybe the most versatile as he can also provide pressure on the QB. Lloyd has the size to play any of the LB spots, but scouts believe he may be best in the middle as he would be able to see the whole field to make plays on the ball.
10. WR Drake London, USC
London has good size and athleticism allowing him to make plays on the ball like a basketball player while he plays with good toughness. His 40 time will be important as London may be more quick than fast, but he is the top possession WR in the draft with potential to be a #1 WR or very good #2.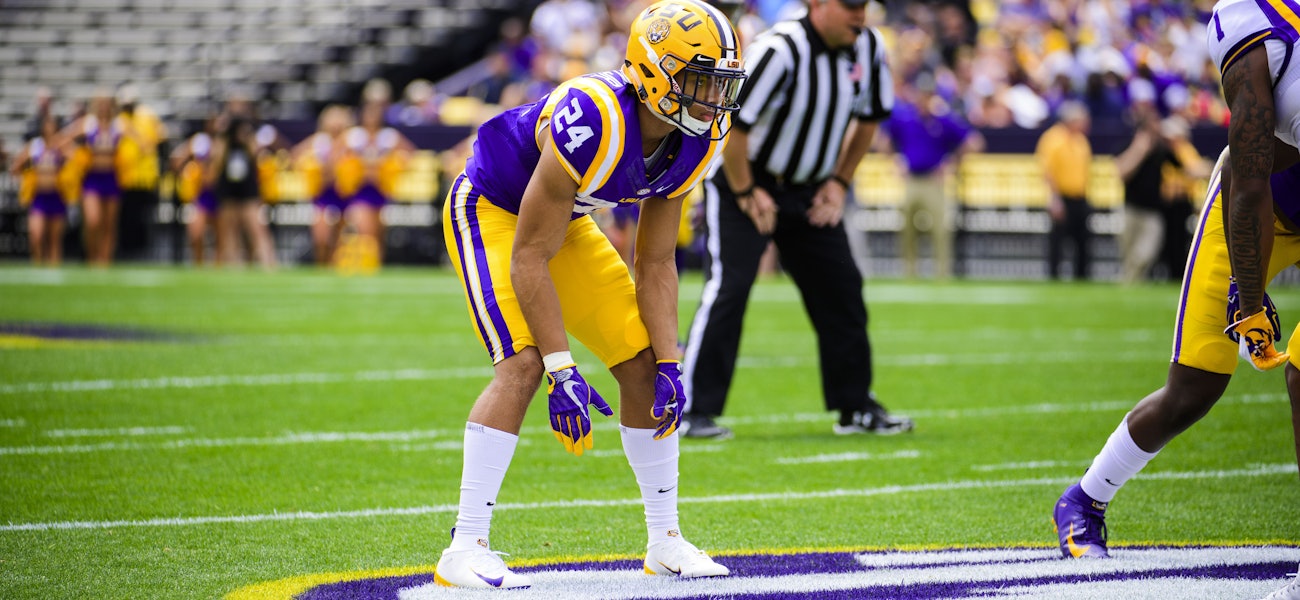 11. CB Derek Stingley Jr., LSU
Stingley is an athletic CB with NFL genes who has everything you would want in a #1 CB with good size, speed, coverage skills, and physical play which is why he is ranked higher on other lists and will go higher in the draft, but he has been injured for most of the last two seasons.
12. CB Ahmad "Sauce" Gardner, Cincinnati
Sauce is a confident man to man CB who likes to get physical with his opponents and he has the size and coverage skills to match up with #1 WRs in the league, however he will need to get stronger to improve his run coverage. He may be best as the #2 CB, but he can be the #1 in the right scheme.
13. LT Charles Cross, Mississippi State
Cross is a solid pass protecting Tackle and may be the safest LT prospect in the draft playing with good footwork, strength, and technique. However, Cross still needs to get better at run blocking after playing in a pass heavy system and continue to add to his frame which may help with the latter.
14. WR Jameson Williams, Alabama
Williams would have been ranked higher on most boards, but he tore his ACL in the championship game. Williams is the fastest of the WRs and has the ability to make plays in space, as well, making him more than a deep threat. He would fit best as a #2 WR or even in the slot as a matchup nightmare.
15. LB Nakobe Dean, Georgia
Considered the best LB in the draft, Dean is one of the fastest linebackers in the draft making him a sideline-to-sideline tackler and he also excels in coverage while playing with good instincts. Due to his size, he may have to play MLB and he will definitely need to add 10-15lbs to handle the full season.
16. QB Kenny Pickett, Pittsburgh
Pickett is the consensus #1 QB in the draft with the size and arm strength to make all of the throws while coming off a big season, however, he will need to work on his footwork and consistency. While many scouts have complained about his hand size, turnovers haven't been an issue.
17. DE Travon Walker, Georgia
Walker plays with good strength and burst off the line which is evident when watching him play allowing him to be a good pass rusher and even better run defender. Walker was used in many ways in the Georgia defense at LB, DE, and DT which will allow him to play in any scheme.
18. OLB David Ojabo, Michigan
Ojabo is one of the top pass rushers in the draft with a high motor, good size, and good speed allowing him to get around the edge or at least disrupt the play. Ojabo is still raw and needs to continue to improve against the run and in coverage, but he could offer pass rush help as a rookie.
19. WR Chris Olave, Ohio State
Olave is a good route running WR who had a knack for finding the end zone and he can play both inside and outside, but he may be best in the slot; he reminds me a lot of Tyler Boyd. Olave may not have the speed to be a #1 WR, but he may find a home in the slot of a passing offense.
20. WR Jahan Dotson, Penn State
Dotson is one of the toughest WRs in the draft playing with good speed, strength, route-running, and hands, allowing him to also excel in the return game. However, Dotson doesn't have the size/build to play on the outside in the league or at least consistently and may be limited to slot WR/returner.
21. QB Desmond Ridder, Cincinnati
While many draft boards won't have Ridder this high, I think he is the 2nd best QB in the draft and a true dual threat QB. Ridder has good mobility to escape the pocket but has shown that he will stay in the pocket, however he needs to improve his consistency and show he can handle improved competition.
22. DE George Karlaftis, Purdue
Karlaftis is ranked a lot higher on most boards, but he is a strong, high motor DE who does a good job of setting the edge and making plays behind the line with the size to play in any scheme. However, he doesn't play with good hitting power or speed and may be more or a run stuffer with some pass rush ability.
23. CB Andrew Booth Jr., Clemson
Booth has good size for the position and he is a willing tackler in the run game playing with good toughness and physicality. Booth doesn't have the speed to keep up with the faster receivers and may be best in a zone cover scheme or in the nickel where he can be used as blitzer as well.
24. WR Treylon Burks, Arkansas
Burks has been rising up boards and may continue to. Burks is a big WR who plays with good strength making him tough to take down and good on WR screens and quick slants as well as in the return game. However, he doesn't have good speed and needs to continue to improve his route running.
25. S Jaquan Brisker, Penn State
Brisker is the 2nd best Safety in the draft and he plays with good physicality and toughness as a Safety who can drop down in the box and likes to make the big hit to disrupt the play while helping in the run game. Despite being a box safety, Brisker does have coverage ability, but can be beat deep by speed.