NFL Mock Draft 2022
1. Jaguars – T Evan Neal, Alabama
New HC Doug Pederson wants to build through the trenches and protect his QB. Neal is the highest rated Tackle in the draft, and he should go #1 overall. Neal has good size and strength with the footwork to play LT, but there will be growing pains.
2. Lions – DE Aidan Hutchinson, Michigan
The Lions were hoping for the local product and in this scenario, he falls in their lap. Hutchinson is a tough blue-collar player, and the type of player HC Dan Campbell is looking for. Hutchinson should be a problem off the edge for years to come with his high motor and athleticism.
3. Texans – S Kyle Hamilton, ND
The Texans need help in a lot of spots on both sides of the ball but taking the best player in the draft makes sense. Hamilton can give the Texans a building block for a defense that will most likely be rebuilt during this draft after going with Lovie Smith at HC. Hamilton has the size and talent to help the defense at all three levels.
4. Jets – DE Kayvon Thibodeaux, Oregon
The Jets need help at pass rush despite the return of free agent Carl Lawson from injury and Thibodeaux fits the bill. Thibodeaux could go as high as #1 due his pass rush talent, but with an offensive line need to start off the draft he drops in this scenario.
5. Giants – T Ikem Ekwonu, NC State
The Giants have an obvious need along the offensive line as proven throughout the season and Ekwonu can fill in at RT if needed or even improve one of the Guard spots with his strength and mobility. He would provide much needed help to the run game.
6. Panthers – QB Kenny Pickett, Pittsburgh
The Panthers have tried to acquire their QB by exploring many options, but with the ability to take any QB of their choice in the draft they should select Pickett. Pickett is not a perfect QB but has good size and a good arm to make all the throws; his stock rose after solid play in the Senior Bowl.
7. Giants – C Tyler Linderbaum, Iowa
The Giants choose to double dip on the offensive line which needs help as mentioned above. Linderbaum the best interior lineman in the draft and could instantly fill in at the Center spot. Along with Ekwonu, the Giants run game and overall protection would see instant improvement.
8. Falcons – T Charles Cross, Mississippi State
The Falcons would like to mix up their offensive line and keeping QB Matt Ryan upright is becoming more important. Cross is the best pass blocking lineman in the draft and instantly ready to fill in at the LT spot, this move would allow Jake Matthews to move back to RT.
9. Broncos – LB Devin Lloyd, Utah
The Broncos have a big need at QB but with Pickett off the board, the Broncos should select Lloyd who could help fill the loss of Von Miller giving them a player they can put opposite Bradley Chubb, or they could even let Lloyd man the middle as the leader of the defense, which is most likely.
10. Jets – CB Derek Stingley, LSU
The Jets need help at CB primarily someone who can play on the outside and fill the #1 role. Despite his extensive injury history, Stingley is the #1 CB in the draft with the size, speed, and physical play to be a top CB, but health is his primary concern.
11. Washington – OLB David Ojabo, Michigan
While most experts expect Washington to select a QB, the defense took a hit as the strength of the team with the loss of Ryan Kerrigan via free agency and the injury to Chase Young. Ojabo would be able to fill that role as a high motor pass rusher who plays with good speed and bend off the edge.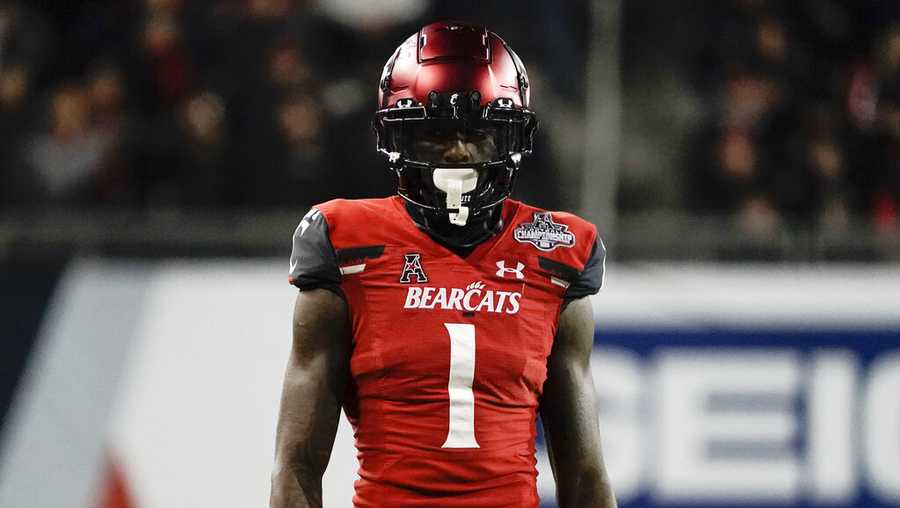 12. Vikings – CB Ahmad Gardner, Cincinnati
The Vikings need help at CB with all major contributors at the position up for free agency. Gardner has the size and coverage skills to fill in as a #1 CB and he has the swagger/confidence the NFL loves to see at that position.
13. Browns – WR Garrett Wilson, Ohio State
The Browns need help in the WR position after letting go Odell Beckham and Wilson is the best WR in the draft. Wilson can play inside and outside allowing him to be a movable piece and he can make plays at all levels with his ability to get separation.
14. Ravens – DE Travon Walker, Georgia
The Ravens need help along the defensive line with multiple players hitting free agency, so adding Walker, a prototypical 3-4 DE makes sense. Walker is a noticeably strong player who can stop the run and provide pass rush from multiple positions; he seems to be a good fit here.
15. Eagles – LB Nakobe Dean, Georgia
The Eagles seems to need help at LB every year and adding a player like Dean could seal the MLB position for years to come. Dean is an instinct player who may be the fastest LB in the draft with sideline to sideline tackling ability and good coverage skills.
16. Eagles – DE Jermaine Johnson, Florida State
The Eagles have multiple 1st round picks and love to add pass rushers, so using a pick on Johnson who rose to the 1st round due to a great showing at the Senior Bowl practices makes sense. Johnson is an athletic player with good size who showed he has the skillset to be a force off the edge.
17. Chargers – DT Jordan Davis, Georgia
The Chargers need help along their defensive line with multiple players entering free agency and they need help against the run. Davis is a massive player with good run stuffing ability and the ability to demand constant double teams; he could be a usual addition to a very good defense.
18. Saints – QB Matt Corral, Ole Miss
The Saints have a need at QB after the injury to Jameis Winston and his pending free agency with limited cap space to bring him back. Corral makes the most sense for the Saints as a mobile QB who is very similar to Taysom Hill in playstyle allowing them to keep a similar playbook for the two QBs.
19. Eagles – WR Drake London, USC
The Eagles need a tall possession WR to add to their offense after few players have been able to fit that role over the years. London is a tall possession WR with #1 WR potential and a good jump ball WR who could really help with the progression of Jalen Hurts.
20. Steelers – QB Malik Willis, Liberty
The Steelers need a QB with the retirement of Ben Roethlisberger and while they are more likely to go with a veteran, they need one to groom. Willis is a mobile QB with a good arm who will need some time before being thrown into the starting spot; he could work well with the Steelers run game.
21. Patriots – T Trevor Penning, Northern Iowa
The Patriots very rarely stay in their draft spot usually preferring to move down for more picks, but in this scenario taking a RT makes sense as they could lose Trent Brown again. Penning rose after solid play in the Senior Bowl and he can play Guard as well but should find a home at RT.  
22. Raiders – WR Jameson Williams, Alabama
The Raiders need help at WR with very little depth and clearly have a need for speed at the position after adding Desean Jackson late. Williams is one of the fastest WRs in the draft and would already be off the board if he didn't tear his ACL, but he should be ready to contribute for the season.
23. Cardinals – G Kenyon Green, Texas A&M
The Cardinals could use help on the interior line with multiple injuries to QB Kyler Murray. Kenyon Green has experience everywhere on the line and projects to be a Guard in the league, but he could slide in at Center if needed as well.
24. Cowboys – WR Chris Olave, Ohio State
The Cowboys are likely to lose WR Michael Gallup and the few depth players they do have are also pending free agency. Chris Olave is a good route running WR who can play both inside and outside but fits best in the slot.
25. Bills – CB Andrew Booth Jr., Clemson
The Bills have an obvious need at CB as they need someone opposite Tre'Davious White and lack of depth was even more obvious after his loss. Booth is a tall CB with good coverage skills and the ability to contribute immediately inside or outside, but there will be growing pains.
26. Titans – LB Arnold Ebiketie, Penn State
The Titans could use help at LB especially if they aren't able to retain Harold Landry in free agency. Ebiketie is a player on the rise who has improved each year at getting after the QB, but he will need to improve against the run; he can help on passing down immediately.
27. TB – DE George Karlaftis, Purdue
The Bucs need help along the defensive line with players like Jason Pierre-Paul and Ndamukong Suh facing free agency. Karlaftis is a tough, high motor DE with good size who uses a good bull rush to get after the QB, but I think he would be better in a rotation to start his career.
28. GB – T Bernhard Raimann – Central Michigan
The Packers had to shuffle their O-line due to injuries all season and with players facing free agency they will likely go Tackle. Raimann has risen since the Senior Bowl, but he is a raw prospect with good size and strength who could fill in at both tackle spots, Guard, or maybe even take over the RT spot.
29. Dolphins – WR Treylon Burks, Arkansas
The Dolphins could use help at WR with a lack of depth and the production mostly coming from Jaylen Waddle. Burks is a big WR with good hands who is very tough to take down by CBs, he could be useful for Tua, as he is known to avoid the deep ball and Burks could be his possession WR.
30. KC – WR Jahan Dotson, Penn State
The Chiefs could go with a player on either side of the ball, but with a need at WR with players pending free agency Dotson could be the perfect Chief. Dotson is a tough player with good speed who plays bigger than his size, but in the league, he could work well as a playmaker in space/returner.
31. Bengals – G Zion Johnson, Boston College
The Bengals have a clear need along the offensive line and need to take the best interior lineman on the board. Zion Johnson is a name on the rise since the Senior Bowl and he is a strong, aggressive lineman who can open holes in the run game and hold his own against big DTs.
32. Lions – QB Desmond Ridder, Cincinnati
The Lions could use an upgrade in the Quarterback room alongside Jared Goff and even eventually push him for the position. Ridder is an athletic dual threat QB who has improved at throwing in the pocket; he played well in the Senior Bowl.